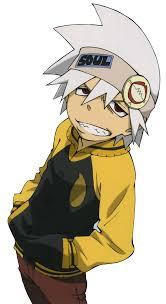 What's Soul Eater? (Not For Me)
This is for Other people if they are wondering what in the world this anime that this child continuously brings up and is annoying everyone with (referring to myself)
▼Scroll down for more questions▼
Answers (
2

)

vote up or down the answers

Answer Link
WATCH THIS SHOW. Hahaha? . . . So funny . . . Be wary of Excalibur . . . The worst character ever created . . . ???
on January 19, 2018
Answer Link
Here's my answer. Usd for someone else already. XD
Well there's students at the DWMA. Meisters and weapons work together to eat 99 souls and one witch soul. If the weapon succeeds they will work alongside with Death. They also have to stop the witches and a Kishin named Asura. If Asura is released he will wreak madness across the world and insanity. The characters are Maka, Soul, Black Star, Tsubaki, Crona, Kid (Death the Kid), Liz, Patty, Stein, Death, Spirit, and other names
See More▼
of more minor characters (I'm sorry if I missed any) So basically they work against insanity in others and the Witch Medusa. There are secrets, there is heartfelt. You will cry I swear. But it's more than worth it. I'd take the time to go ahead and watch it sometime! It'll be worth the while.
on January 16, 2018