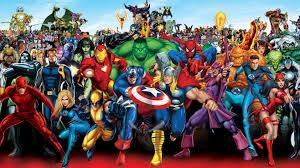 Who's your favorite superhero?
Any superhero comic, movie or OC.
▼Scroll down for more questions▼
Answers (
13

)

vote up or down the answers
Batdad! (Look him up on YouTube.)
on December 19, 2014
on July 13, 2016
I'm a banana is my superhero 4 life.
I'M A BANANA! I'M A BANANA!
You never know what Banana's can help for yöu.. the world will never know what kind of a superhero they are!
on July 13, 2016
ALL THE AVENGERS..... Plus my Oc's
on August 01, 2015
Isabella Thunder(my OC),Scarlet Witch,Quicksilver,and anyone played by Avengersfan123
on May 27, 2015
Katie fall from frosts avenger fanfict duh
on April 20, 2015
Thor
And also Dr. Maniac and the Purple Rage from Goosebumps X3
on February 04, 2015
on December 23, 2014
Dexter the cat from green lantern c:
on December 22, 2014
So many! *one year later* uh..... I like all of them I cant choose! The Winter soldier? He's a good guy after a while in the comics.
on December 19, 2014
on December 19, 2014