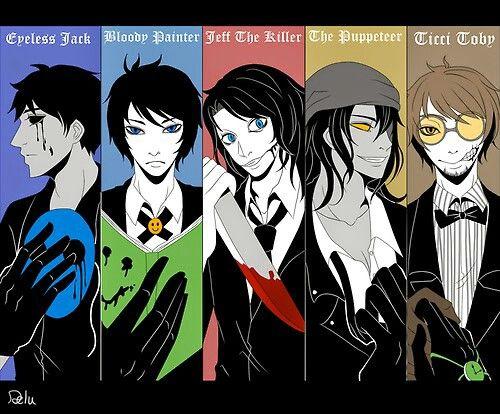 what creepypasta boy is your fav and why?
A. eyeless jack
B. bloody painter
c.jeff the killer
d.the puppeteer
e. ticci toby
▼Scroll down for more questions▼
Answers (
5

)

vote up or down the answers
Well it might sound weird but...I like Slender man, because he reminds of my father and they are both a little in common...I also like Hoodie, Lost Silver, and Ticci Toby because they remind me of myself about my depression, part of my personality, and part of the past that they had from the far beginning...I also like Masky, because he's usually calm and understanding at the times like this...always knowing what to do from a complicated situation like this, plus he always looks
See More▼
up to his brother in a good way...I'm also kinda ok with Smile Dog because I find him interesting as a nice pet...Ben in the other hand....well...he's ok...I honestly don't really mind him much but he does like going online and play video games...which that's kinda like me...but I also like drawing pictures, writing fictional stories, and walking into the woods to enjoy nature more often though....which it's kinda hard to tell a little...
on October 28, 2018
I don't really have a fav cp because I like them all, but if I'd to choose, it would be Jeff the Killer because he was the first cp I'd ever read about and once I read his story, I felt sorry for him and how his story and my life are the same (expect for killing the family part).
on October 28, 2018
Well I just can't decide I'm sorry. But I do have a order
It would go
C,A,E,B,D
But really I would be like...
I LOVE THEM ALL!!!!!!!!
on October 29, 2018