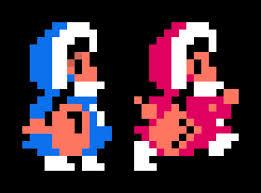 Who are the ice climbers?
Are they brother and sister? Are they friends? Are they a couple? Twins? And how old are they? Same age or one is older?
▼Scroll down for more questions▼
Answers (
3

)

vote up or down the answers
The one in the blue (Popo) and the other (Nana), and oppisite genders. Popo is male, and Nana is female. I don't know about age.
on November 07, 2014
Well I saw them only in super smash bros. so they are a nitendo game
on April 03, 2015
The Ice Climbers are from a video game created by Nintendo, where they would go and defeat enimies and break bricks to continue the level.
on June 10, 2014