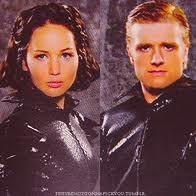 Are you a true Hunger Games Fan?
Have you read the books and seen the movie? If so you are
▼Scroll down for more questions▼
Answers (
11

)

vote up or down the answers
I love The Hunger Games! I read the books 20 times before the movie came out. I have a whole bunch of Hunger Games merchandise and I waited for 4 hours until 12:01 so I could be the first in line for the Hunger Games dvd release!
on September 03, 2012
I also can make a mean Lamb and Dried Plum Stew. (Katniss' favorite Capitol dish)
on September 03, 2012
i've just started the series i've read the first book and seen the movie
on July 31, 2015
YES!!! Hunger games all the way! I have read the books like 5 times.
on March 31, 2015
on March 20, 2014
on February 22, 2014
on November 30, 2013
I read all three books, and I read Mockingjay in just over 1! Uno! One! day!! and I watched the movie! Peeta's so amazing... and ps. I think I MIGHT have found Peeta in real life... :O
on December 06, 2012
on December 05, 2012