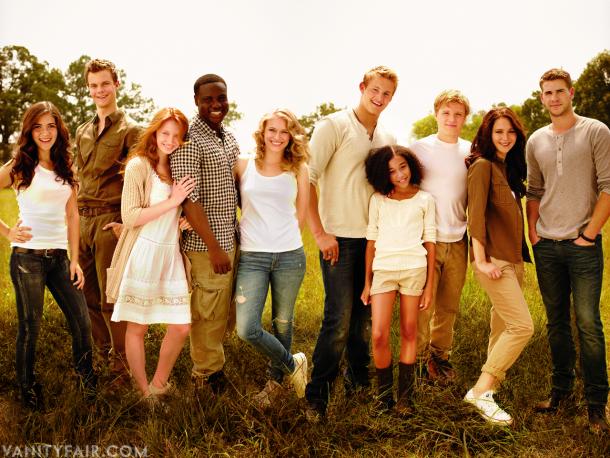 can someone please tell me a little about hunger games before I read it?
I just wanna know cuz I'm gonna read it soon!So I just wanna know the basic layout of the book!So ppl plz tell me!Thnx1
▼Scroll down for more questions▼
Answers (
15

)

vote up or down the answers
Basically, North America's destroyed, a Capitol controls and dictates 12 little serving districts with hunger games, in which children form each district have to fight to the death. Katniss Everdeen goes into the Hunger Games and...
on April 20, 2012
oh oh! Thresh, ummm... and thats all in the 1st book. when i finish the 2nd book (which i didn't get yet...grrr mom!) I'll tell you the characters.
on May 09, 2012
on May 08, 2012
awwww....mean!But yea you do have a point......
on May 08, 2012
nooo dont ruin it for her!! you'll have to find out! ill tell you its really good though! The characters that i know are: Katniss Everdeen, Primrose (Prim) Everdeen, Peeta Mellark, Gale Hawthorne, Foxface, Glimmer, Haymitch, Effie, Cinna, Portia, Cato, Rue, and i dont remember any others..
on April 25, 2012
thnx!Can you plz continue?
on April 20, 2012
It is a dystopian future where 24 children one boy and one girl are put into an arena and forced to fight to the death in a pageant also known as the Hunger Games. There are twelve segregated district and 16-year-old Katniss Everdeen lives in the twelfth until she volunteers for her younger sister Primrose Everdeen. She goes into the game with her district partner, friend and lover, Peeta Mellark.
on April 27, 2016
well there are 12 districts 1 capitol and each year the tributes must go to a choosing ceremonie or a reaping in other words and 2 tributes from each district are chosen to fight to the death
on September 18, 2015
i will just say basics it is a game kids kill kids game makers put stuff to try and kill em. there are 13 districts and 3 books
on March 30, 2015
You see, there was an uprising in all the districts from 1-13 but in the uprising, district 13 was smothered in flames and ashes, and does not exist! The Capitol, a very powerful city, won the battle and they were mad, so they created an event that occurs once a year, called the Hunger games. In each district, 2 tributes ( between the ages 12 and 18), are drawn to fight to the death. Only 1 out of 24 will survive! But when Katniss Everdeen takes her sister's place at the reaping,
See More▼
to meet someone who has had a crush on her forever! Should she kill him, or leave it to Mother Nature?
on January 07, 2013
There is an uprising in America caused by all of the districts. During the uprising district 13 is destroyed. The Capitol wins the war and to remind all the districts of their loss and what they had done they created an event held every year called the Hunger Games. A male and a female from each district between the ages of 12 and 18 must be chosen from a reaping ball to go forth and fight to the death in the arena. The arena could be anything, a desert, a forest... One victor
See More▼
will survive, become famous and win millions of money. Katniss Everdeen (our heroine) steps forward and volunteers for a her younger sister (Primrose Everdeen.) She is accompanied by Peeta Mellark...Her lover. It is a tough decision...should she kill her lover or sacrifice herself?
on July 25, 2012
on May 10, 2012