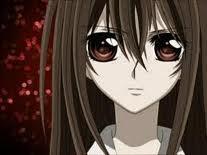 what anime have any of you guys watched thats got vampires and comedy and romance plz a list would be good thanks
looking for a good romance and vampire anime thats funny aswell but already seen vampire knight/guilty thanks xxxx
▼Scroll down for more questions▼
Answers (
8

)

vote up or down the answers
Comedy: Good Luck girl
Vampires: Owari no Seraph (Seraph of the end)
Romance: Does SAO count?
on February 10, 2016
i'm perhaps replying a bit late.. instead of anime i have some good vampire manga (i wonder if you like manga though).. i'll still list two of them:
Bara to juudan (one of my favorite cause the heroine's hair looks like Yuki Kuran's hair)
Midnight secretary
on December 07, 2013
SAO is my favorite it has all that but the vampires...
hellsing i herd is good and has some of that too
on October 03, 2013
I know a anime kinda like that, but without vampires. Rosario+Vampire is the only one I know but you watched all ready. Even though it doesn't have vampires, two animes I recommend is Megaman NT Warrior and Infinite Stratos.
on October 01, 2013
on July 11, 2013
on July 11, 2013
on July 11, 2013