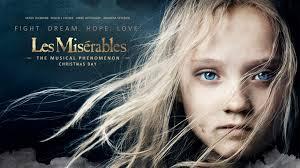 What do you think of the movie Les Misarab
When I watched it I thought it was AMAZING!! Don't worry though, it's your answer.
▼Scroll down for more questions▼
Answers (
4

)

vote up or down the answers

Answer Link
I thought the movie was good. But... the Broadway production is 10000000 times better. If you haven't seen the play, the movie was probably the best thing ever, but when you compare the two... Yeah. I thought Anne Hathaway and Amanda Seyfried did a really good job. I thought they could have picked a better Marius though. I mean, he was hot, his voice was just to throaty. This is my honest opinion so dont get mad if you dont agree. :)
on June 18, 2013
Answer Link
WOW IT WAS THE BEST MOVIE IN THE WORLDDDDDDD!!!!!!!!! DID YOU KNOW THAT ISABELLE ALLEN IS ON QFEAST?!!! :D
on June 18, 2013
Answer Link
OMG!! YES I LUUUVVVEEDD IT IT IS MY MOST FAVE MOVIE IN THE WHOLE WORLD
on June 18, 2013
Answer Link
My older sis sed that EVRY1 is singing live, so they hav SOOO MUCH power in there voices its AMAZING!
on October 13, 2013