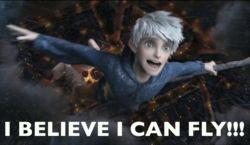 What ROTG would you like?
I'm in a mood to create a ROTG(Rise Of The Guardians)quiz or a story.If it would be a quiz would you like it to be:
a)What do you know about ROTG?
b)Which of my ROTG Oc's are you?
c)Other
If it would be a story would you like it to be:
a)*one of the guardians*xReader story.
b)A story with my OC(it would still be with love).
c)Other.
You chose.
▼Scroll down for more questions▼
Answers (
2

)

vote up or down the answers

Answer Link
SANDMAN! i really like him!<3
on September 06, 2015
Answer Link
Everyone likes Jack Frost (how can you not <3) but I dunno. Make all three if you want. I'll do/read them.
on May 27, 2014