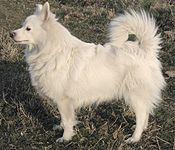 Just read my description!
Everybody loves dogs so I will ask a lot of questions to test your brains.
What type of dog is the picture?
Where did the breed come from?
Is that dog in the same catagory as the Pomeranian?
Do you know what other colours it comes in?
Do you think that the dog is cute?
Thank you!
▼Scroll down for more questions▼
Answers (
6

)

vote up or down the answers

Answer Link
1. Minature American Eskimo Husky
2. IDK
3. Yes
4. black, white, gray
5. ADORABLE!!!!
on July 25, 2015
Answer Link
german spitz German Spitz (Mittel) (Medium/Standard Spitz, incl. American Eskimo Dog) - black, white, cream, brown, sable, parti-colou the Pomeranian, is also registered as a separate breed in the UK and North America. German
See More▼
Spitz, like all spitzen, have many physical features found in oldest stone age fossil dogs in Central Europe, leading experts at the time to believe that the spitz is the oldest dog type and yes i do think this is cute!
on March 26, 2013
Answer Link
on February 23, 2013
Answer Link
on February 22, 2013
Answer Link
Uh..Okay, I don't know if they're right....but here we go...
-Japanese Spitz
-Japan
-Yes
-White
Obviously and I'll kill anyone who doesn't think it is > : (

And your welcome : ) by the way I am not so sure about most of those answers, I just think it's a type of Spitz...
on February 12, 2013
Answer Link
on February 12, 2013