Amazing Dog Tricks!
Subscribe or become a member to watch lots of videos of dogs doing amazing tricks! There will only be videos, but you can comment them or talk about them in the talk room!
German Shepherd doing the feet trick!!!
This is Rexy proving how disciplined he can be for food!! Not bad for a baby
on February 10, 2013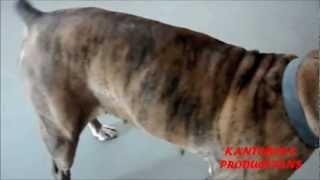 "Oppa Gangnam Style" DOG STYLE!!!!!
Very nice dance,and very nice DOG STYLE!!!! OPPA GANGNAM STYLE!!!!! James aztigin
on February 10, 2013
NEW PSy Gangnam Style Dancing Dogs - Very Cute
PSy Gangnam Style Cute Dancing Dogs - So Cute -- Please like the video and share on Facebook and Twitter. If you like it you could also help us out and get t...
on February 10, 2013
Rottweiler well trained
FR Connexion Ajouter une vidéo Rechercher Fermer Nous avons défini la langue que vous préférez Voici votre langue préférée : Français. Vous pouvez modifier ce paramètre ci-dessous. We've set your language preference to French. You can update this preference below. Learn more View this message in English Guide nouveauté Populaire sur YouTube Musique Sport Jeux vidéo et autres Films Émissions TV Aucune chaîne trouvée. Des chaînes pour vous RBS6Nations ligue1fr taratata GoldenMoustacheVideo StudioBagel Aucune chaîne trouvée. Parcourir les chaînes Connectez-vous pour ajouter des chaînes à votre guide et bénéficier d'excellentes recommandations ! Connexion › Voici votre guide Accédez à votre chaîne, à vos playlists, à vos abonnements, etc. J'ai compris ! Ne vous
on February 10, 2013
Husky Dog Sings with iPAD - Better than Bieber! (now on iTunes!)
Get LaDiDa: http://bit.ly/get_ladida Mishka on iTunes: http://itunes.apple.com/us/album/mishkas-song/id395125406?i=395125410&ign-mpt=uo%3D4 More LaDiDa Vids:...
on February 10, 2013
Useful Dog Tricks performed by Jesse (Original Video)
Presenting, Useful Dog Tricks!! Whoever said tricks can't be useful? Jesse loves helping around the house, and I just love his happy attitude and smile on hi...
on February 10, 2013
Nana the World's Smartest Dog Performs Amazing Dog Tricks
Meet the world's smartest Border Collie: my best friend, Nana! From footstalls, to walking front paw handstands, to running backwards, Nana does it all. All ...
on February 10, 2013
Dog Adopts Abandoned Kittens
Dog Adopts Abandoned Kittens A dog decides to raise a very unusual but very cute family.
on February 10, 2013
GERMAN SHEPHERD DOES MOST AMAZING DOG TRICKS!!
This week, I want to share with you some of my favorite dog tricks. As I was making this - I was wondering 'what makes an incredible dog trick?' Leave a comm...
on February 10, 2013
0
on February 10, 2013