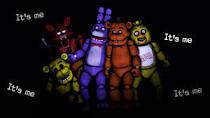 Whatdo you thing Five nights at Freddy's 3 is gonna be like?
PLease have atleast 2 thoughts
▼Scroll down for more questions▼
Answers (
6

)

vote up or down the answers
It was supposed to be in 1985 where freddy fazbears diner like the phone guy said.. The bite of 87 was on the 7th night in fnaf 2 and it also explains the old animatronics probably from the diner.. in fnaf 3 there will be bonnie.. chica.. foxy.. freddy.. and mangle.. which I think will be cool.. the first fnaf was in 1992.. I did half hour of studying
on January 24, 2015
it was called 'Fredbear's Family Diner'
on January 24, 2015
1. Free roaming mode
2. When you die you see the Bite of 87'
3. 40/20 mode.
4. At least have a night 8
5. More animatronics
6. We see Golden freddy somewhere on stage...
on January 24, 2015
on January 24, 2015
What I know is that it takes place before FNAF or FNAF 2.
FNAF - After the bite of 87.
FNAF 2 - During the bite of 87.
FNAF 3 - Before the bite of 87.

So I think that it will take place in Freddy's Family Diner. There was a place called Freddy's Family Diner before Freddy Fazbear's Pizza I believe. So that's just what I think. ^~^
on January 24, 2015