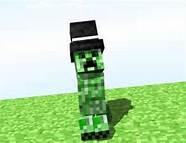 How do you make a Minecraft parody?
I want to make a minecraft parody i have the lyrics but i don't know how to animate and do i need minecraft pc? And here is a random picture of a creeper wearing a top hat
▼Scroll down for more questions▼
Answers (
3

)

vote up or down the answers
Do you need an animator?
Or a singer?
on March 26, 2014
I all I really need is a YouTube account and mums permission to download mine-imator. I have learnt the song but I dont know what to record with because I dont have a video camera. Do you know if Ipad Minis have a recording thing that works well cuz i might get one of those soon!
on March 10, 2013
You have to get a minecraft animation download program like Mine-Imator and record the singer then play it while the animation plays.Hope this helped!!!!! MINECRAFT IS AWESOME!!!!!!
on March 05, 2013