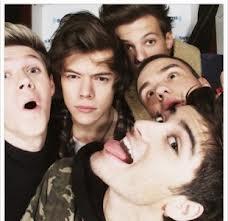 How's you favorite character or person of anything
how you fave it can be a person of a movie, artist, etc
▼Scroll down for more questions▼
Answers (
11

)

vote up or down the answers
Loki, Nico Di Angelo, Draco Malfoy, Tobias Eaton, and Chuck from Maze runner.
on February 16, 2018
Markiplier or Robert Downey Jr
on February 15, 2018
......IreallylikeThomasSandersandhisSanderSidesmainlyLoganandRomanbutIlovePattonandVirgiltoo
on February 14, 2018
on February 26, 2014
MY FAVOURITE PERSON IN THE WORLD (apart from my family & friends) IS ARIANA GRANDE!!!!!!!!!!!!!!!
on January 12, 2014
EVEY! FROM ONE SEXY DIRECTION!!!!!!!!!
on February 14, 2013
Hmm... If I had to choose my top five, they would be: Niall from One Direction, Katniss from the Hunger Games, Sakura from Naruto, Hinata from Naruto, and Konan from the Akatsuki in Naruto.
on February 12, 2013
on February 11, 2013