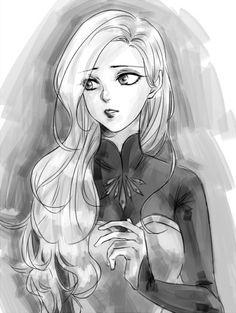 Elsa
Hi. I'm Elsa. I'm 15, I have cryokinesis, and my life officially SUCKS.
This is my story...
It all started when I almost killed my younger sister.
I was 8. Yeah, I know. Way too young to be an almost-murderer. But hey, it was an accident. I have cryokinesis -- I can control ice or snow with a touch or gesture or even just my mind. When I get excited or upset or angry or overly emotional in just about any way, it goes off like a rocket.
Anyways.
It was a beautiful winter night. My sister, Anna, wanted to play. She dragged me to the Great Hall, where we skated and built snowmen and sucked on icicles for hours. She started to play a game, jumping from pile of snow to pile of snow like they were mounds of leaves in the autumn. She started jumping out over nothing, 'flying,' and telling me to catch her. I did, of course. It was fun. Then I slipped.
She jumped out, but I was disoriented and couldn't see where she was going to land. I desperately shot out with my hand.
It hit her in the head.
She was knocked unconscious, but the force of the blow knocked her safely backwards onto a nearby snowdrift.
"Anna!" I screamed, scrambling to my feet and rushing to her side. A streak of her hair turned white.
"Mama! Papa!" I cried out desperately for help, not noticing the frosty, rough ice crusting the walls, the floors, the ceiling, the doors.
They somehow forced their way in. Everything from that point on is a blur -- Papa finding a map that led to the trolls somewhere in the library, riding out to their hiding place in the woods, removing Anna's memories of my powers.
Coming home, a mess of sobs and tears and frigidness.
My parents decided to lock me away. Anna moved to her own room. I was kept cooped up in my own. I had to keep the door locked and only let in my parents or servants bringing food.
My home became my prison.
And here I am, still locked away like a fairytale princess. Except in this case, I'm so scared of hurting people that I don't want to leave. And yet I want to live. I want freedom. I want to fall in love. I want to see my sister again. I want to do more than sit all alone and sulk for the rest of eternity.
For now, nothing happens.