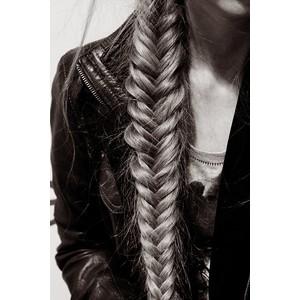 Stella
"Stella, watch out!"
I looked up from my notebook to see Jamie shouting at me. She's my BFF.
A second too late, I see Peter beneath me. I chose this tree because I thought it would be private and safe; instead, the whole posse of populars has to come.
Peter is up here beside me in seconds. How does he climb that fast? He's an A; that's for sure. He was born a C, though. He eternally hates me for being ranked below me.
He smirks, and the way he looks unnerves me a little. As a C, he's not even allowed to speak to me unless I speak to him first, but he's broken that rule and many others before.
I want to ask him what he wants, but I don't want him to speak. Maybe if I ignore him, he'll actually follow the rules for once.
No such luck. He skips the formalities and grabs my chin in an iron grip, turning my head to face him. He looks absolutely malicious.
"Peter, let go of me."
"Why would I do that?"
"Because if you don't, then Jamie will call a Shepherd and you'll be in big trouble."
My threat obviously doesn't hit home. He just smirks some more and nods down to where Jamie is. She's an E, so him and the rest of his posse, mostly D's, can bully her without even a glance from the teachers.
Life is so unfair.
I look back at Peter and give him a death glare. "What do you want, Peter?"
He gives a fake innocent smile. "I just want to talk."
I sigh. No, actually he wants my necklace. The one that says I'm an A. That marks me for all eternity - or at least until Independence Day - that I am the city's most elite.
"Peter..." he doesn't let me finish. He grabs the notebook I was doodling in earlier. I don't know what he plans to do, but whatever it might be, it won't have a happy ending for me.
I grab at it. "Gimme that!" but he catches both my arms and pins them behind me with just one hand. He flips through the book with the other.
"Is this a diary?" he asks. I can't tell if it's a rhetorical question or not.
"Maybe. Just give it back!" I hiss at him, but he just rolls his eyes.
I see Shepherd Jacob down below. All Shepherds are A's. A Shepherd is one of the highest honors; the only positions more highly esteemed are the Leaders.
"Shepherd Jacob!" I call. I can see Peter wants to absolutely murder me. If I tell the Shepherd that he spoke to me without permission, took one of my possessions, and hurt me, he could end up in Juvenile Locker until Independence Day. Which, granted, was only a month away now. Still.
Shepherd Jacob looked up in the tree. Peter wasn't touching me; as a matter of fact, he was on the other side of the tree. My diary was right beside me.
"What is it, Stella?" Shepherd Jacob asked. So far, no Shepherd had ever caught Peter in the act, and I'd never told anyone.
"Um... Nothing... I was just..." I frowned. Jamie was getting punched by Peter's second-in-command, also a C. "Would you please make Marco leave Jamie alone?"
The older Shepherd sighed. "Stella, please. I am not to interfere. I can stop people of lower letters from harming higher letters, but not the other way around. Stop bothering me about it."
He walked off, and Peter threw me a smirk before jumping out of the tree.
I carefully made my way down. Where he got the courage to jump twenty feet, I will never know.
I stalked up to Marco. Jamie's cheek was purple. Why anyone would ever be this cruel was beyond me. "Marco, stop. Now."
He turned to me, a practiced grin on his face. "Why should I, princess?"
I flinched at the awful name. "Princess" was an insult. The princesses in the history books were lazy and incapable, but received power by birth. I guess that definition pretty much described me, but it still hurt.
"Because I said so, and I'm two letters above you."
He stopped. He had to listen to me. "Not for long..." he muttered as he walked off.
And I knew he was right. After the competition, I would probably be a Z - or dead.
I grabbed Jamie's hand and walked off in the other direction.