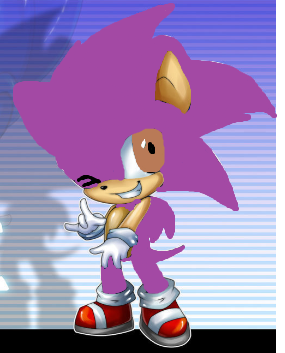 Being a Black
I bet you all think I'm the bad guy right? And you are correct. But there are reasons behind why I am the bad guy, reasons why I joined Eggman. This is how it all started.
Sapphire starts in a family; you would accept the same from me? Wrong! My parents dumped me at the closest orphanage when I was a baby and I grew up there. The kids were mean to me and the adults there ignored me so I had to make my own way in life. The only person who actually knew I was not invisible was a boy named Joan. He was a red hedgehog who always wore a black waist coat. He was the same age as me. He used to sneak me chocolates from the goodie box and smile at me when the other kids picked on me. We never actually said anything to each other; we didn't even know each other's names at that point. One day he had gone missing from the orphanage. People searched everywhere for him but they could never find him.
It had been three days since he had been missing and I was sitting in my room, which was the size of a cupboard, and letting my figures twist and soar as white sparks of electricity flew from them and into the air. My power was my only entertainment.
"Cool power!" I looked up in shock to see Joan sitting on my window ledge smiling. I sat there dumbfounded.
"What's the matter? You can't talk?" He jumps off my window and sits next to me on the bed. I shake my head still shocked.
"How…why…People thought you was dead!?" I cry and he just chuckles.
"I am dead mate"
"So you're a ghost?" I ask and he just gives me a chuckle.
"You're a silly one aren't you? No, I meant I'm dead here" He puts his hand on the left side of his chest.
"…Your ribs broken?" Joan starts laughing holding his chest. "Dude! You crack me up, but I guess I'm going to have to show you" He gets off of my bed and jumps out of the window. I slowly walk to the window and look down. Am I really going to follow the guy that was thought of as dead from my bedroom window? Heck yeah!
I follow him by jumping from my window. I land with wobbling or falling mover.
"Impressive!" I look up to see three birds and Joan.
"I'm Jet and this is Wave and Storm and you have already met Joan. We are the Blacks" I look at them all closely. Jet was a green hawk, Wace was a purple swallow and Storm was a grey albatross.
"And you want me because…?"
"We have seen your powers and it could help us with our next target." Wave said
"Yeah! We want to burn down the orphanage!" Storm cried with a large smile. I knew it was wrong, I knew it could hurt people or worse, but I just couldn't help it! It was like I was born to be evil!
"I'm in! What do I have to do!?"
"First you have to become a member of the blacks"
"How do I do that?"
"Here's a riddle, what's black+black+black+black?"
"…black?"
"You're in!" Jet nodded towards me before walking off. Storm and Wave followed smiling at me. The Joan walked up to me
"Welcome to the club Domanic"