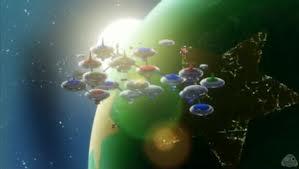 Chapter one
~FLASH BACK ON KERON~
Me: *Crying* Tamama I'll miss you. *The heart on her head was a dark blue*
Tamama: I know I'll miss you too.
Dreanu: *recording and crying* This is sooooo sad.
Tamama: *Hugs me* I got to go.
Giroro: C'mon on soldier. We got to go.
*Keroro, Giroro, Tamama, Zeroro, and Kululu board their space ship*
Me: I want to go to Pekopon
Dreanu: No! That's crazy talk Karlala!
Me: C' mon! I know you can't be separated from your beloved Kururu!
Dreanu: *Blushes* N-no!
Me: COME ON! *Drags her to her house with my mom and dad* Mom, Dad? You here?
Dreanu: I don't-
Mom: Yes! *walks inside to where I am*
Me: Mom, me and Dreanu are going to Pekopon
Mom: Ok.
Dreanu: That's it? Your just going to let us go to Pekopon? It's dangerous! What if-
Me: OK THANKS! I'll be right back! First we have to tell her mom. *Walks to Dreanu's house* Hey Dreanu's mom? You here?
Chinunu: Yes Karlala?
Me: We are going to Pekopon, I hope that's ok! My mom said ok.
Chinunu: Yeah that's ok.
Dreanu: WHY WOULD YOU SAY YES?!!!???!!??!?!?
Chinunu: Because The Armpit Platoon is there!
Dreanu: UHG!! Whatever but I want to build the ship!
Me: Ok! So we will be done by the time I die......
Dreanu: NO! It will be ready in 3 months.
Me: UHG! Well get started sister!
Dreanu: But I'm not your-
Me: GET STARTED! I'll see you tomorrow. *walks home*
~Three months later~
Dreanu: FINNISHED!
Me: Finally!! It's been a month longer but who cares.
Dreanu and I: *Says goodbyes to parents.*
Dreanu: Here, have this, it's kind of like a cell phone, but cooler. Well we are off!
*We get in the rocket and go to Pekopon*
Me:Yay we are finally going!
Dreanu: Yeah, actually I'm happier then I was before.
*Landing in Pekopon, the ship crashes in a ferry exporting food from Miami, Florida, to Tokyo, Japan.
Me: Ouch... OHHH PASTA. *eats some*
Dreanu: Oh yumm!
*In Tokyo*
Me: Hey......... Isn't that Mois? HEY MOIS!!!!
Mois: *Turns her head.* Oh hey guys! What are you doing here?
Dreanu: She couldn't stand being separated from Tamama.
Mois: AWW! C'mon inside y'all! Giroro's makin' us some sweet taters!
Me: Uhhhh.... TAKES US THER NOW!
*At the house*
Mois: C'mon I have a surprise for y'all!
TO BE CONTINUED.