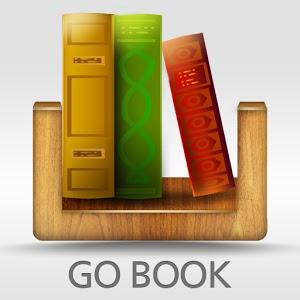 Want Pretty Much Any BOOK For Free?
So this is a little tip but hard to explain. If you have an Iphone this wont work for you. Atleast I don't think.. But if you have android you are set!
First what you need to do is get the app called GOBook. After you have downloaded that find the app called Utorrent and download that. After you have downloaded that search for the app Piratebay. I promise that is the last app! Now go onto the piratebay app and search the author of the book or title. I usually do author because its easier to find books that way. Now after searching the name, on the right side of your screen there will be an S standing for Seeder and L standing for leachers. Now in most cases it will pop up the most seeders. Seeders are how many people providing that torrent for you. For example if it says S-300 and L-29 that means 300 people are seeding that torrent and 29 people are downloading that torrent. When searching an author you can often find a torrent with the authors collection with several books/collection. Read through the titiles of the torrents that are listed. Click on one that appeals to you. When you click on it you want to see how big the file(s) are, how many seeders, and what format the book is in. First off the smaller the file(s) are the better(less space taken up), the more seeders the faster the download,and the best format for the GOBook app is epub. Now let me walk you through this! Step by step starting with searching on pirate bay. I searched Stephen King on the piratebay app. The first one I see is Stephen King-Complete Works [1974-2013, EPUB, MOBI, ENG] ( mobi is another format and ENG is language). The file is 49.64 MiB which is very small for how many books are in it, which is great! and it says there is 125 seeders and 11 leachers which is also good. So click on that torrent. When clicking on that torrent it will list all the books that is in the file. At the top of your screen there should be a icon with an arrow pointing down with a line under it. Click on that when you click on it, it will either take you straight to the utorrent app or ask if you want to open with utorrent click yes. When it goes into utorrent a little message will pop up and say Add Torrent, click add. Now it will download, i will tell you how long it will take and some other information. Let it download, usually it takes about 1-10 minutes depending on the file. Once it is done, click your home button, and go to the GOBook app. Which will open to an empty shelf click your menu button on your phone which will show: Import, Themes, Download, Setting, Help, Update, More and Quit.
Click on Import, it will take you to your sdcard, scrawl down to download, click on that, and Click Stephen King. When Stephen King pops up again click on that, and at the bottom it will say Batch Import and Back to shelf, Click Batch Import. At the bottom it will now say Cancel, Select all and Import. Click Select all and now it will check all the files, now click Import(41) the 41 is how many books are in that file. It will take you back to your shelf with all the books you downloaded on there. Some may not have covers, but most will. Now if you look at the top of your screen you will notice Utorrent is still running. Slide down your notifications and click on the utorrent notification. At the top there will be a search icon and an icon next to it click on that and it will pop a menu up, click exit and utorrent will stop running. Now say you get a bad torrent or not the right one but you imported it to the GOBook app already that is fine. What you do, is go into the utorrent app and click on the torrent you no longer want and click the menu button on your phone or at the top, then click delete. A question box will pop asking if you want to delete the file also, check the box and click ok. Wallah, the torrent and files are gone. Also you can delete just the torrent and not files. If thats what you want to do just click ok instead of checking the box. I hope this helped! Happy days right?
▼Scroll down for more questions▼
Answers (
2

)

vote up or down the answers
So many words! Here it is in steps! (for more info suchas: Deleting files and exiting utorrent refer to the description at the bottom.)
1)Download these three apps from the appstore: GOBook, Utorrent, and Piratebay. (In that Order)
2)Once those are installed, go into the Piratebay app. Search any author. For example: Stephen King.
3)Now click on the one that is most appealing to you.
4)Click the icon at the top of the screen that is an arrow pointing down.
5)You will
See More▼
be directed to the app called utorrent, a little screen will pop up saying add or cancel click add.
6)Books usually download pretty fast. SO play the waiting game till it is done downloading.
7)Once done downloading, click your home button.
8)Now find the GOBook app. Once in there click your menu button.
9) Click Import. It will take you too your sd card.
10) Now scrawl down till you see download.
11) Click the book file you downloaded, click twice if needed.
12)Go to batch Import
13)Click Select all
14) Now click Import!
All done!
on March 23, 2014