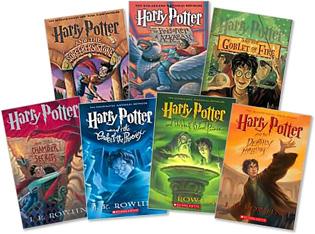 What is your least favorite Harry Potter book? And what is your favorite book and why?
I am just curious on what people will say? The more to your answer the better thanks!
▼Scroll down for more questions▼
Answers (
4

)

vote up or down the answers
on July 31, 2014
Least Favourite: Prisoner of Azkaban. No Voldemort.
Favourite: Order of the Phoenix. Long
on March 01, 2014
I HAVE NO LEAST FAVOURITE BECAUSE THEY'RE ALL INCREDIBLE!!!! But Half-Blood Prince HAS to be my favourite. I really, really love Deathly Hallows & Goblet of Fire too, though! And then Philosopher's Stone, Chamber of Secrets, Prisoner of Azkaban & Order of the Phoenix!!
on March 01, 2014
I don't really like #6 #3 is my favourite
on March 01, 2014