Homestuck Headcannons
This page is for posting all of your Homestuck headcannon, or even ships.
On modern desktop browsers to select multiple photos, hold the Ctrl key (⌘ on Mac) while choosing photos. 35 photos per week limit. 5MB max/photo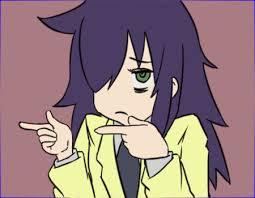 My headcanon voices, I don't have some of them p:
Gamzee: ???
Equius: Either Cyborg (Teen Titans) or Muscle Man (Regular Show)
Nepeta: Sasha Braus (Attack on Titan)
Feferi: Starfire (Teen Titans)
Sollux: ???
Eridan: ???
See More▼

Aradia: Chrysalis/Cadence (MLP)
Vriska: Eileen (Regular Show)
Terezi: Hanji Zoe (Attack on Titan)
Karkat: Rigby (Regular Show)
Tavros: Tbh kinda like a genderbent Fluttershy -w-
Kanaya: Princess Bubblegum (Adventure Time)
on July 16, 2015
-Headcannon Homestuck Voices-
Aradia: Probably Mazzy.
Tavros: Octopimp.
Sollux: Gerald ((Riley's ex.))
Karkat: Rigby (Regular show.)
Nepeta: Izzy ((Riley's cute lil sissy, I'm her senpai.))
Kanaya: Florence Welch.
See More▼

Terezi: Afina P. ((Voice actor on Youtube, really amazing.))
Vriska: Sarah ((Friend.))
Equius: Octopimp.
Gamzee: Octopimp.
Eridan: Landon ((Friend irl.))
Feferi: Starfire ((Teen Titans.))
on July 16, 2015
1
on June 11, 2015
My headcannon race for Dave is Albino. :3
on March 24, 2015
0
on February 04, 2015
0
on February 04, 2015
on December 20, 2014