Songs that fit the Characters!
Have a song you think would be perfect for a character? Put it here! Mostly for Soul Eater, Pokémon, Harry Potter, Percy Jackson, that kind of thing. Just make sure to put the character's name with the song!
On modern desktop browsers to select multiple photos, hold the Ctrl key (⌘ on Mac) while choosing photos. 35 photos per week limit. 5MB max/photo
on September 08, 2016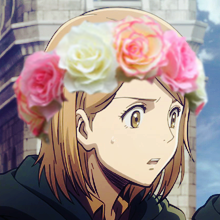 World Is Mine by Hatsune Miku for me.
on April 26, 2015
OMG. XD

Time for Tony the Talking Clock.
Creative for Paige.
Love for Shringold.
Computerz for Colin.

LOGIC
on April 26, 2015
Dollhouse by Meloney Martinez for Ticci Toby.
on April 26, 2015
on January 23, 2015
Monster- skillet
For: shadow the hedgehog
on January 23, 2015
Uninstall -Gopher
I think this song of Kaito fits very good on Gopher. 3 I DON'T OWN THE IMAGES AND THE SONG, images are from the manga "Soul Eater" and fanarts from the inter...
on January 23, 2015